Yıldırım TÜKENMEZ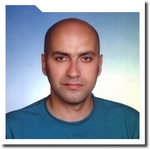 He was born in Ardahan- Çıldır in 1964. He graduated from Yeni Levent High School and attended to Marmara University School of Physical Education and sports and succesfully graduated. In his active soccer career he played in Anadolu Hisarı,Çengelköy and Uskudar Anadolu Teams.
In 1992 he assigned to Erzurum Tekman High School as a Pyhsical Education Teacher for his obligatory duty.
In 1994 he assigned to Etiler lisesi in İstanbul and worked as a Pyhsical Education Teacher.
From 1996 to 2001 he worked as sports writer in Radikal-Fanatik and Posta Newspapers. And he also take part in Galatasaray- Arsenal UEFA Final and Galatasaray-Real Madrid Super Cup Matches as a sports writer.
He worked as a Coach in Yücespor, Bakırköyspor, Çanakkale Dardanelspor Teams.
At present he's stil working in Etiler High school as a Pyhsical Education Teacher and also working as a coach in Akadlar Sports club. He's married.